Baceline Group invests in and manages necessity-based Neighborhood Shopping Centers in select, secondary markets throughout the United States. Our select and refined process to identify and acquire properties has proven key to our historical performance.
Our leasing team works with a diverse and stable base of tenants that have national, regional, and local footprints. We pride ourselves on a strategic and complimentary mix of tenants to create the most positive impact on the property and community.
To learn more about a property or to get details on vacant spaces, please contact our Leasing team.
We Want to Hear From You
SPEAK WITH A LEASING PROFESSIONAL
To share an acquisitions opportunity or learn more about our property criteria, please contact our Real Estate team.
We Want to Hear From You
SUBMIT A PROPERTY
Our Properties
An Expansive Portfolio
Roebuck Plaza
Birmingham, AL
Leasable Square Feet: 56,677
Ahwatukee Commons
Phoenix, AZ
Leasable Square Feet: 18,640
Cortaro Crossings
Tucson, AZ
Leasable Square Feet: 19,901
Huntington Square
Tempe, AZ
Leasable Square Feet: 47,599
Mesa Vista Marketplace
Mesa, AZ
Leasable Square Feet: 37,117
Plaza 22
Tucson, AZ
Leasable Square Feet: 29,918
Sun City Promenade
Phoenix, AZ
Leasable Square Feet: 70,035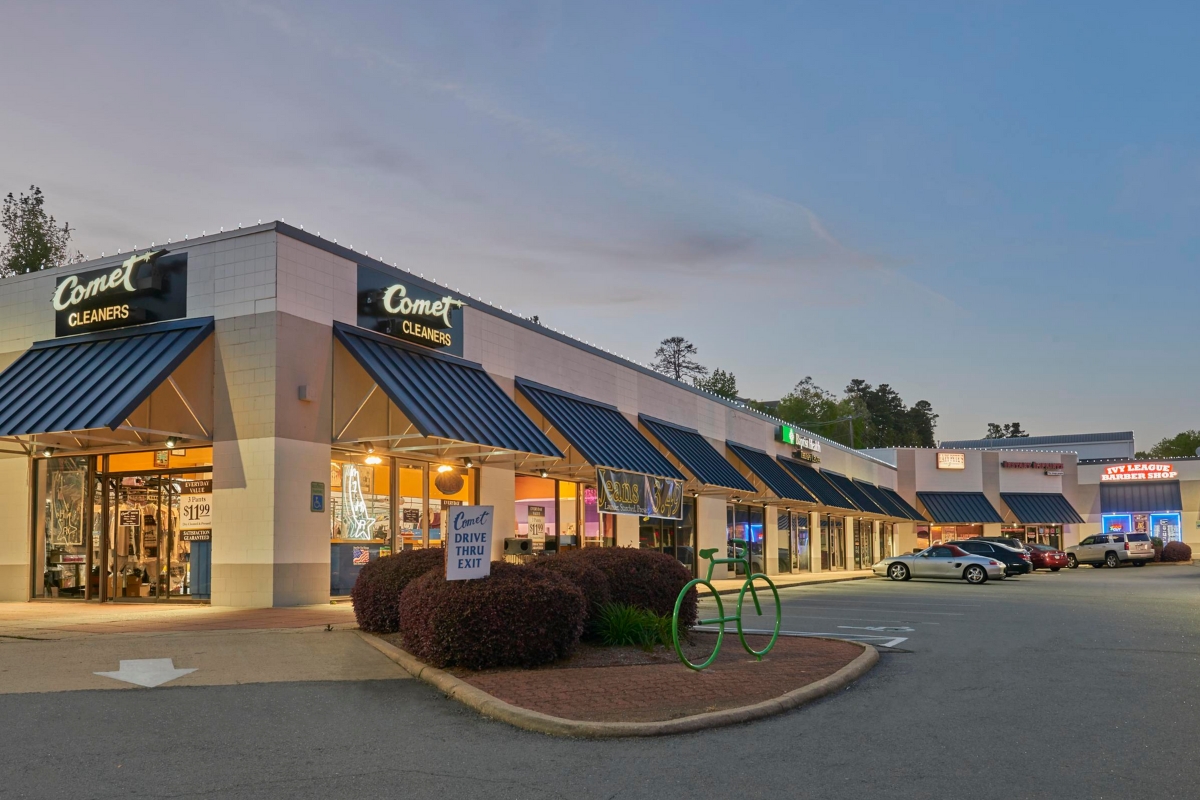 Bowman Curve
Little Rock, AR
Leasable Square Feet: 79,569
Westgate Shopping Center
Little Rock, AR
Leasable Square Feet: 52,626
Discover Commons
Lawrenceville, GA
Leasable Square Feet: 30,476
Shoppes at Cedarcrest Commons
Atlanta, GA
Leasable Square Feet: 20,884
Streetside at Vinings
Atlanta, GA
Leasable Square Feet: 15,461
Century Plaza
Lisle, IL
Leasable Square Feet: 15,464
Foxmoor Crossings
Chicago, IL
Leasable Square Feet: 22,408
Geneva Crossing
Chicago, IL
Leasable Square Feet: 15,134
Hickory Creek
Chicago, IL
Leasable Square Feet: 25,808
Mainline Plaza
Belleville, IL
Leasable Square Feet: 43,813
Maybrook Plaza
Chicago, IL
Leasable Square Feet: 9,176
Midway Plaza
Fairview Heights, IL
Leasable Square Feet: 27,200
Orchard Crossing
Chicago, IL
Leasable Square Feet: 21,476
Overlook on North Avenue
Chicago, IL
Leasable Square Feet: 16,894
Quentin Corners
Palatine, IL
Leasable Square Feet: 42,569
Rose Plaza
Plainfield, IL
Leasable Square Feet: 7,952
The Commons of Hazel Crest
Chicago, IL
Leasable Square Feet: 51,414
University Plaza
Peoria, IL
Leasable Square Feet: 133,252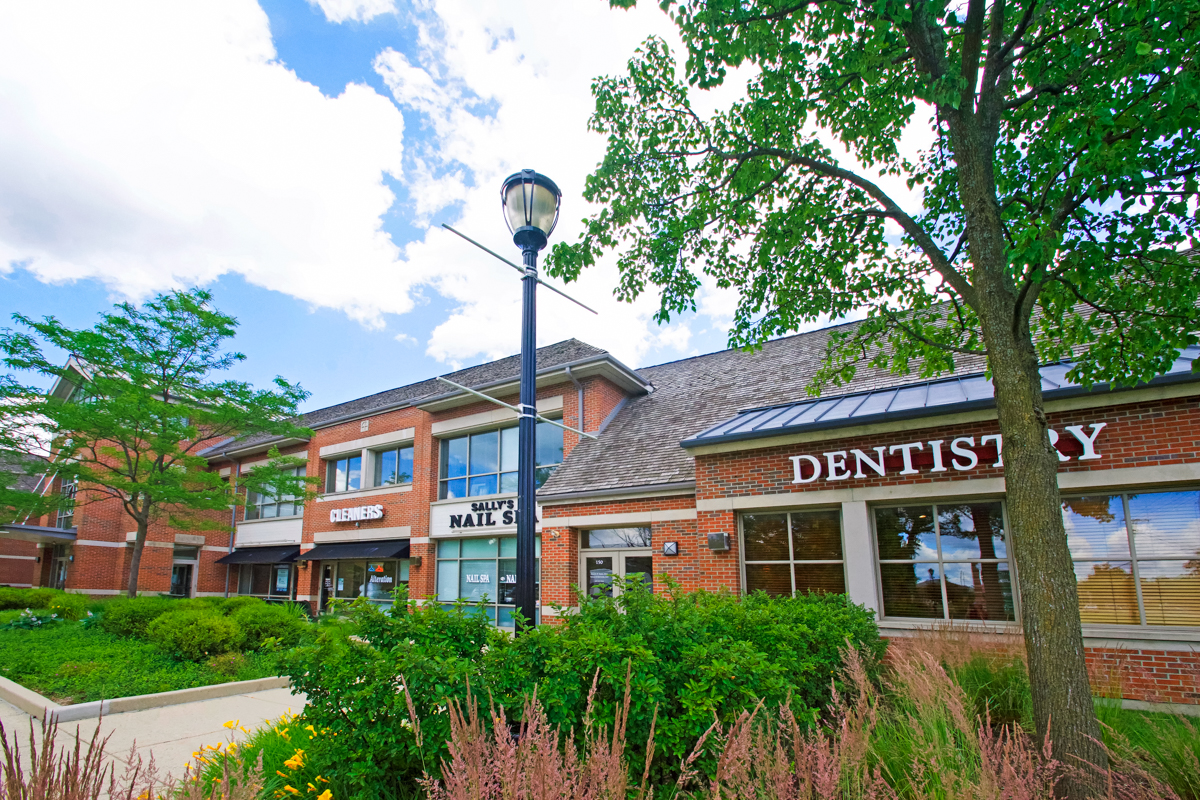 Village Green
Lincolnshire, IL
Leasable Square Feet: 121,879
Concord Plaza
Lafayette, IN
Leasable Square Feet: 19,250
Eagle Creek
Indianapolis, IN
Leasable Square Feet: 9,239
Eagle Creek II
Indianapolis, IN
Leasable Square Feet: 27,177
Emerson Place Shoppes
Indianapolis, IN
Leasable Square Feet: 34,921
Fishers Shoppes
Fishers, IN
Leasable Square Feet: 18,882
Lafayette Marketplace
Lafayette, IN
Leasable Square Feet: 85,012
Parkside Shoppes
Fishers, IN
Leasable Square Feet: 18,387
Pendleton Shoppes
Indianapolis, IN
Leasable Square Feet: 22,811
Pyramid North Shoppes
Indianapolis, IN
Leasable Square Feet: 26,553
Sunnyside Shoppes I & II
Indianapolis, IN
Leasable Square Feet: 47,083
Westlane Shopping Center
Indianapolis, IN
Leasable Square Feet: 71,602
Clocktower Square
Des Moines, IA
Leasable Square Feet: 142,356
Stoney Pointe
Des Moines, IA
Leasable Square Feet: 31,640
DaVita Centre
Lansing, KS
Leasable Square Feet: 23,348
Indian Trails
Olathe, KS
Leasable Square Feet: 31,140
Piper Plaza
Kansas City, KS
Leasable Square Feet: 37,620
Ridgeview North
Olathe, KS
Leasable Square Feet: 12,500
West State Plaza
Kansas City, KS
Leasable Square Feet: 93,973
Bardsbridge Pointe
Louisville, KY
Leasable Square Feet: 14,300
Quarry Center
Louisville, KY
Leasable Square Feet: 16,454
Shoppes at Forest Green
Louisville, KY
Leasable Square Feet: 48,723
Turfway Towne Square
Florence, KY
Leasable Square Feet: 55,168
90 Douglas Avenue
Holland, MI
Leasable Square Feet: 13,505
Canton Corners
Detroit, MI
Leasable Square Feet: 33,897
Pine Ridge Center
Novi, MI
Leasable Square Feet: 37,629
Waterford Center
Grand Rapids, MI
Leasable Square Feet: 23,098
Burnsville Marketplace
Burnsville, MN
Leasable Square Feet: 7,157
Central Plaza
Columbia Heights, MN
Leasable Square Feet: 82,478
Coon Rapids Marketplace
Coon Rapids, MN
Leasable Square Feet: 11,334
Hanson Commons I
Minneapolis, MN
Leasable Square Feet: 12,705
Inver Grove Marketplace
Inver Grove Heights, MN
Leasable Square Feet: 21,205
Oakcrest Village
Oakdale, MN
Leasable Square Feet: 30,516
Holiday Crossing
Olive Branch, MS
Leasable Square Feet: 53,343
The Crossing
Olive Branch, MS
Leasable Square Feet: 42,000
Astra Way
Arnold, MO
Leasable Square Feet: 13,467
Bayberry Crossing
Lee's Summit, MO
Leasable Square Feet: 54,547
Blackstone Center
St. Peters, MO
Leasable Square Feet: 25,906
Butler Hill
St. Louis, MO
Leasable Square Feet: 32,298
Four Seasons
O'Fallon, MO
Leasable Square Feet: 36,575
Grand Marketplace
St. Louis, MO
Leasable Square Feet: 9,971
Landmark Plaza
Florissant, MO
Leasable Square Feet: 23,196
McARTHUR'S PLAZA
St. Louis, MO
Leasable Square Feet: 25,711
MLK Plaza
St. Louis, MO
Leasable Square Feet: 46,648
Noland View
Independence, MO
Leasable Square Feet: 18,480
Scottsdale Center
Independence, MO
Leasable Square Feet: 41,421
Village Mall
St. Peters, MO
Leasable Square Feet: 16,801
Vogel Road
Arnold, MO
Leasable Square Feet: 14,400
48th & Vine
Lincoln, NE
Leasable Square Feet: 44,721
Fort Plaza
Omaha, NE
Leasable Square Feet: 36,044
Weber Place
Omaha, NE
Leasable Square Feet: 38,800
Integrity Plaza
Albuquerque, NM
Leasable Square Feet: 40,599
Shoppes at San Mateo
Albuquerque, NM
Leasable Square Feet: 52,548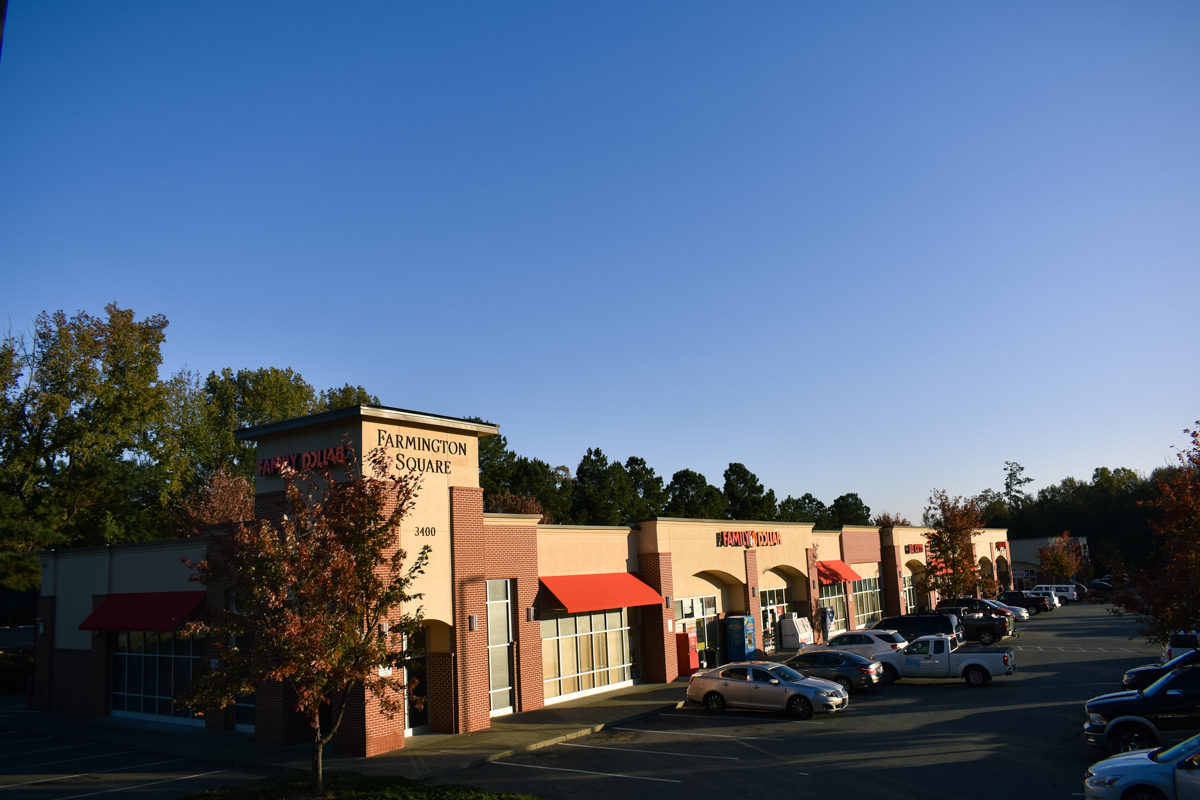 Farmington Square
Raleigh, NC
Leasable Square Feet: 24,780
Galleria Village
Charlotte, NC
Leasable Square Feet: 34,690
Hunt Village
Greensboro, NC
Leasable Square Feet: 30,847
Amelia Plaza
Cincinnati, OH
Leasable Square Feet: 16,000
Morse & Maize
Columbus, OH
Leasable Square Feet: 38,837
Parkview Center
Westerville, OH
Leasable Square Feet: 51,872
Schoolhouse Plaza
Montgomery, OH
Leasable Square Feet: 26,442
Shoppes of Loveland
Loveland, OH
Leasable Square Feet: 64,597
Trask Towers
Mentor, OH
Leasable Square Feet: 16,232
Western Row Plaza
Mason, OH
Leasable Square Feet: 31,507
Brixton Square
Oklahoma City, OK
Leasable Square Feet: 54,011
Vandever Acres
Broken Arrow, OK
Leasable Square Feet: 49,542
Cordova Collection
Cordova, TN
Leasable Square Feet: 53,286
Cordova Station
Cordova, TN
Leasable Square Feet: 18,950
Cross Rhodes
Memphis, TN
Leasable Square Feet: 37,595
Park Center
Memphis, TN
Leasable Square Feet: 104,690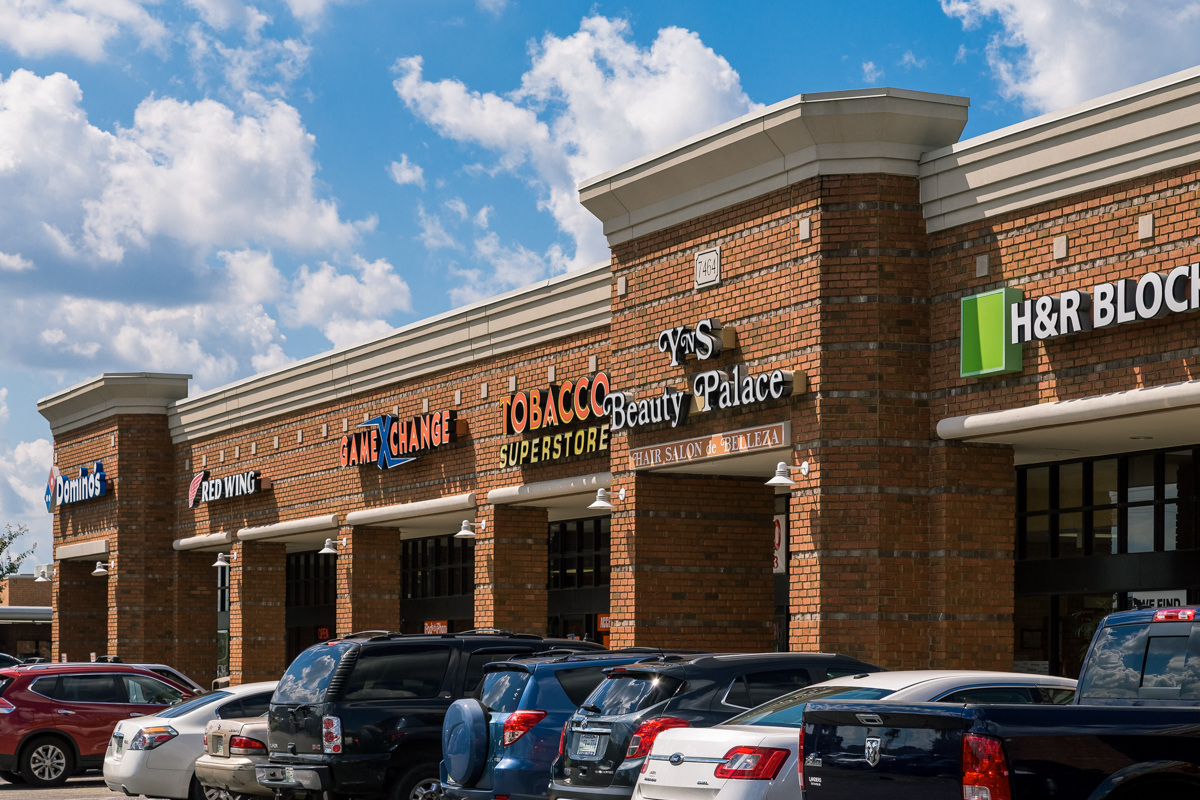 Polo Shops
Memphis, TN
Leasable Square Feet: 27,980
Shoppes at Edge O Lake
Nashville, TN
Leasable Square Feet: 35,544
Stagecoach Collection
Memphis, TN
Leasable Square Feet: 48,150
Cooper Street Market
Dallas, TX
Leasable Square Feet: 75,974
Cooperstown
Dallas, TX
Leasable Square Feet: 24,884
Dakota Plaza
Austin, TX
Leasable Square Feet: 21,700
MJ Crossing
Mesquite, TX
Leasable Square Feet: 49,125
North Town Center
Fort Worth, TX
Leasable Square Feet: 40,820
Northwest Crossing
Garland, TX
Leasable Square Feet: 33,366
Orchid Centre
McKinney, TX
Leasable Square Feet: 24,363
Pleasant Run
DeSoto, TX
Leasable Square Feet: 37,363
Preston Lloyd
Dallas, TX
Leasable Square Feet: 53,948
Tarrant Parkway
Dallas, TX
Leasable Square Feet: 33,002
Antelope Plaza
Clearfield, UT
Leasable Square Feet: 20,000
Clinton Towne Center
Clinton, UT
Leasable Square Feet: 34,308
Capitol Drive
Brookfield, WI
Leasable Square Feet: 10,691
Glendale Square
Milwaukee, WI
Leasable Square Feet: 17,280
Harvard Square
Milwaukee, WI
Leasable Square Feet: 27,062
Lincoln Plaza
Milwaukee, WI
Leasable Square Feet: 39,065
Market Square
Green Bay, WI
Leasable Square Feet: 24,953
Meadowood
Madison, WI
Leasable Square Feet: 45,263
Mitchell Bank Plaza
Milwaukee, WI
Leasable Square Feet: 15,933
Northfield
Milwaukee, WI
Leasable Square Feet: 15,190
Point Plaza
Milwaukee, WI
Leasable Square Feet: 13,841
River Bend Shopping Center
Milwaukee, WI
Leasable Square Feet: 31,425
Sequoia Center
Milwaukee, WI
Leasable Square Feet: 35,189
Shops at Sunset
Waukesha, WI
Leasable Square Feet: 19,239
Shoppes on Appleton
Menomonee Falls, WI
Leasable Square Feet: 37,704
Wessex Centre
Sussex, WI
Leasable Square Feet: 20,923
Woodlands Market
Milwaukee, WI
Leasable Square Feet: 19,433